I finally got my Euro 2020 wallchart. It was my first time buying a newspaper in over a year.
The Euros finally kicked off, but before the opening game we had the opening ceremony. There were balloons of every country taking part, and Bono was there to ensure some Irish involvement. The highlight of the pregame antics was a little remote control car taking the ball to the ref.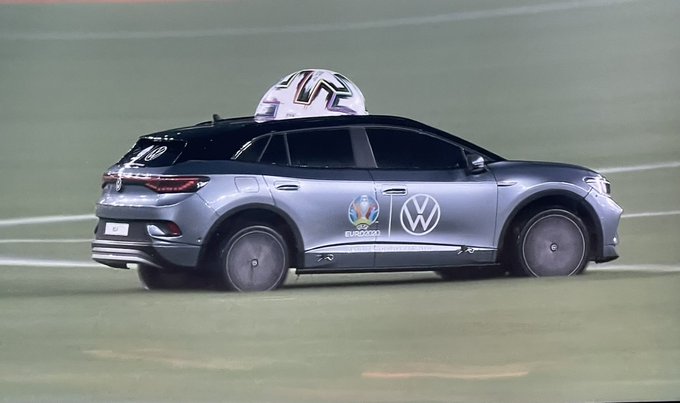 There must have been some temptation to go rogue and keep reversing away from the ref when he tries to get the ball. If it had crashed that would have been a tragedy, but it got their in one piece.
The game kicked off after that.
Turkey 0-3 Italy
The first half didn't live up to the hype. Turkey were resolute in defense, but offered nothing going forward. That could be a problem for them in this tournament. While they are likely to go stretches without conceding, Yilmaz, who won the league with Lille this season, was very isolated. It's a risk you take in a 1-4-1-4-1, they were more set up for defense than attack. They need to get Calhanglu closer to Yilmaz up front. I still think Turkey will have finish 2nd in the group and find themselves in the semi-finals due to the way the draw works out.
Italy were persistent and it paid off. They forced an own goal in the from Demiral (who had to make some kind of contact with the ball), and then went further ahead through Immobile and Insigne. They weren't tested at the back, Donnaruma had nothing to do. They could have had a couple of penalties in the first half, a case of "we've seen them given".
Italy aren't dark horses to win the tournament. They are on a 28-game unbeaten run and haven't conceded in 9 games. They are luminous stallions. My one concern would be for when they come up against the likes of Mbappe of France, potentially in the semifinals, will Bonucci and Chiellini be able to deal with them? Playing of front of Italy suits them, but putting balls in behind them for players with pace to run onto may not. That being said these are two veterans who know how to shithouse their way to a win, but their lack of pace could be an issue.
I see Italy winning the tournament. Mancini (unfortunately sans scarves) has set the team up well to easily transition between defense and attack. They have a goalkeeper who will soon be the best in the world, they have a strong midfield and can stretch teams going forward. This is the first It could be their year I will offer of the tournament. Turkey are a resolute side, who after this game won't likely play another top side until the semi-finals. They could find their way to the latter stages.
The game wasn't a great display, and I feel like we may see a lot of poor enough games in what is the end of a very very long campaign, which began after a short break from an extended campaign. That may actually lead to errors at the back and more goals. More mistakes often make for excitement. The gloss of the Euros beginning tends to wear off after the first round of games, which will mean games will be judged more harshly.
Enjoy the tournament, it's a bit of a miracle we can have an international tournament spanning a continent amidst a pandemic.