NXT TakeOver XXX featured large light-up X's on the stage. But my viewing experience suggests this was not pornography.
PreShow
Tag Team Championship Number 1 Contenders Match:
Breezango v Legado del Fantasma v Oney Lorcan & Danny Burch
Quick match, these preshow matches usually are. Breezango get the win, kind of out of nowhere on the night but the decision makes sense. Champions Imperium are heels, they need sympathetic face challengers.
It was a good showing for Legado and Breezango. Feel like Oney and Burch are kind of falling into the trap of also rans on the brand. I'd like to see them involved in an actual angle over the long haul. They could have a good feud with Legado if they find a 3rd person. One has been on 205Live before, he'd make a good Cruiserweight challenger. Oney challenging for the Cruiserweight title at a TakeOver would be a great underdog story.
Winners: Breezango
Main Card
Timothy Thatcher v Finn Bálor
A hard-hitting clinic that does what TakeOvers do well, make both men look strong. Thatcher is so smooth in the ring and Bálor sold well. But the Irish man needed the win and got it. It seems like Bálor hasn't really had a whole lot to do. He was the 3rd wheel in the triple threat on night 1 of the Great American Bash. He needed to look good tonight and did. Hard to know where he goes now. It looked like he'd be in a feud with Walter going into NXTUK TakeOver: Dublin, but that was postponed. It's tentatively scheduled for late October. Ireland has a ban on spectators at Sporting events until mid-September due to COVID-19, so whether it goes ahead will depend on things like travel restrictions.
Winnder: Finn Bálor
North American Championship Ladder Match:
Damien Priest v Johnny Gargano v Bronson Reed v Cameron Grimes v Velveteen Dream
Surprised this match went on second. Thought it would be the big opener. But I suppose with no fans there's a different kind of pacing to the show.
It's the usual multi-man mayhem early on. Everybody gets a spot to start off with. Grimes tries to find a ladder but pulls out a tiny one. He yells "Who put this here?", that should turn into a meme. He has another comedy spot when he tries to climb two ladders but they get pulled apart.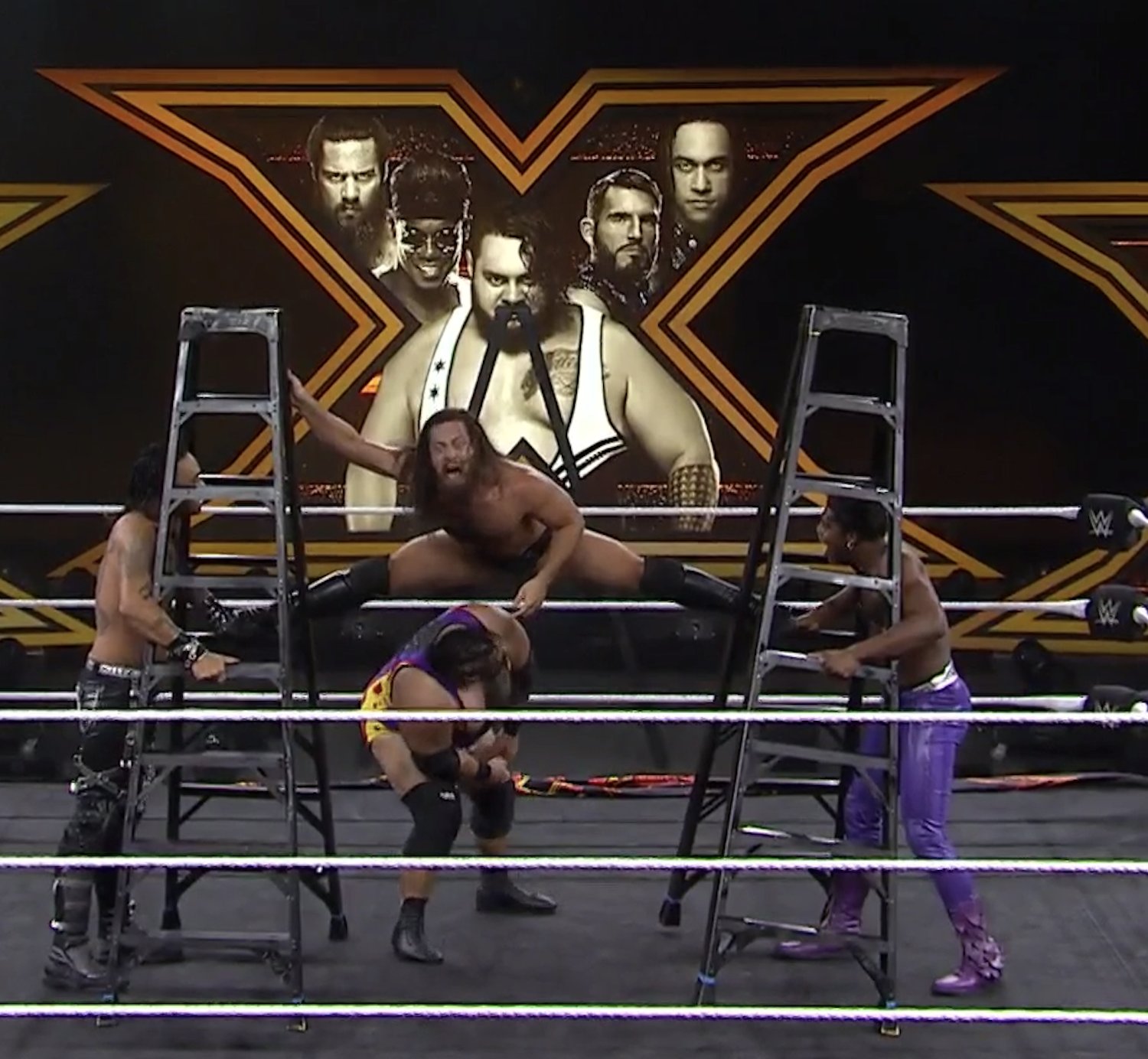 Bronson Reed is dressed like Bam Bam Bigalow. I've been really impressed with him. He's playing the dominant big man roll early on. There's a unique multi-man spot where everybody is piled into the corner with ladders and Reed barges into them.
Damien Priest is the first person to get near the title. Grimes does a crazy flip on Gargano when Johnny attempts a crossbody. I don't know how he did in terms of physics. Grimes nearly gets up the ladder but Candice LeRae interferes. She knocks over the ladder and starts hitting Grimes. Grimes catches her but Gargano throws a ladder at him. Candice dives on everybody on the outside. Gargano nearly gets the title but Bronson reed stops him. Candice climbs up to stop Bronson, but he dives onto Johnny Gargano with her on his back from the top of the ladder.
Dream nearly gets there, which would have been awkward. It looks like there was a misstep there somewhere because he seemed to stall on top of the ladder. Damien Priest appears and knocks him down. Grimes hits the cave-in on Priest and nearly gets up the ladder, but Gargano stops him. Dream hits the Dream-Valley driver on Gargano on top of Damien Priest who was on a ladder. Dream nearly gets there put Bronson reed tips the ladder over and Dream falls really far, he goes through a table.
Reed almost gets up, Grimes throws a ladder at him and comes close to the title. Gargano climbs up and swings the title at him, it hits him on the rebound. Gargano is almost there but Damien Priest graps him by the throat. They both have the title and it comes loose. Priest knocks Gargano off the ladder and wins it.
Winner: Damien Priest (New North American Champion
Really fun match. Right decision to have Priest win. He's looked great in the ring but needed a big win to solidify himself. And he can play that Face or Heel role, or be a Tweener, so there's a wide array of title challengers.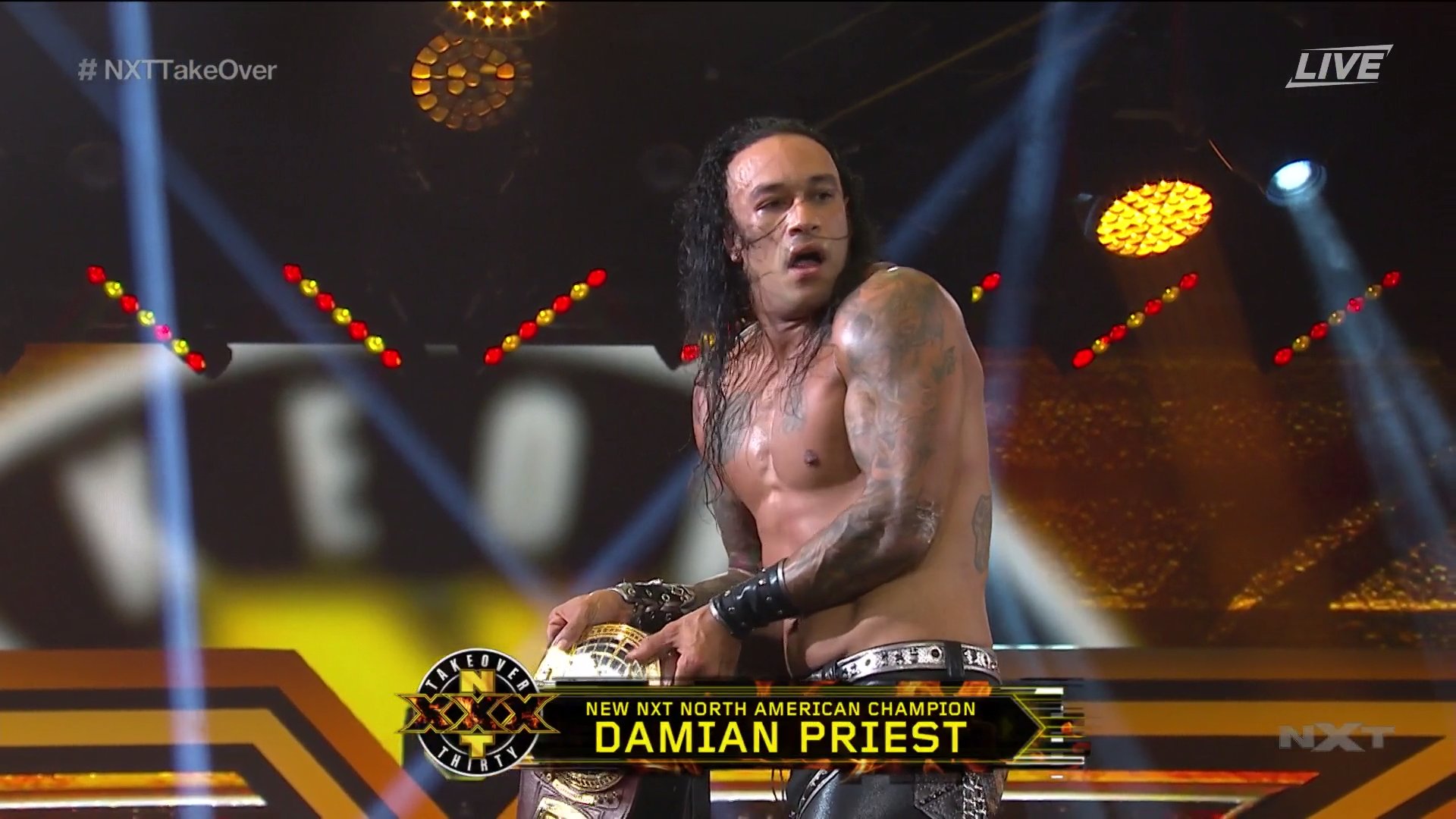 Adam Cole v Pat McAfee
I don't follow American Football, or even live in America, so I had no real reference for Pat McAfee outside of his wrestling punditry. I like the longterm storytelling but I think there were better options for a TakeOver match. It seems strange that Adam Cole goes from NXT Champion to facing a nonwrestler.
The big spot early on is Pat doing a dive on everybody when the UE confront his friends. Pat went for a punt but hits the steps. Pat also does a flip from the top rope then jumps back up and superplexes goal.
Pat nearly gets the win off a low blow and a punt. Cole kicks out. Cole hits a Panama City Sunrise.
Winner: Adam Cole
The commentators put Pat over hard. He looked good for his first match, but they overdid it. I wouldn't necessarily want to watch more if they are going to be that indulgent. But it was a good enough match. Maybe not TakeOver level. But it's impressive that Pat showed so much charisma and understanding in the ring.
NXT Women's Championship:
Io Shirai (c) v Dakota Kai
I've really enjoyed watching Dakota Kai since her heel turn last November. She's been on fire in this feud and looking at how she's been built and her pairing with Gonzales it's believable she could win the title.
It seems like Io got hurt at some point early, the ref keeps talking to somebody backstage. Dakota is on top for most of the match.
Io has the match won with a moonsault but the ref is down. Gonzales takes out Io, Dakota gets a two count. Io takes out Gonzales and gets the win.
Winner: Io Shirai (Retains)
After the match Gonazales attacks Io. Rhea Rhipley comes out. They square off but Gonzales walks away with Dakota Kai. Rhea leaves the ring and stares back at Io.
There's an add for NXTUK coming back.
They also have a promo for Ciampa coming back.
NXT Championship:
Keith Lee (c) v Karrion Kross
I feel this match came too soon. Kross shouldn't lose yet, but it feels too early for Lee to drop the title. He has a good reign in him.
Kross wins, he dominated the match. Lee had a rally late on but it was all Kross. Unless the plan is for Lee to win it back at a TakeOver down the line, probably next Summer, it seems far too early for Kross to win it. We just came off a year-long heel title reign, and now were into a dominant heel title reign. It would have been nice to see Lee get a few defenses in and maybe drop the title in January.
Then again maybe the issue is who would Lee have defended it against? Finn Bálor would have been a good feud but it seems he's waiting for Walter. Timothy Thatcher would be another option if he's built up.
The same question could be asked for Kross. I'd like to see Pete Dunne get a shot (if travel allows it). But I can see this ultimately ending in Ciampa getting involved. It may be an idea for him to lose his first shot before finally winning the title next year. Dijakovic could get a shot too.
To sum up, I would have liked to see Lee get a reign, and I'm skeptical about Kross getting the title so soon. But NXT has proven in the past it knows what it is doing.
Winner: Karrion Kross (New NXT Champion)